Modismo 5
V.A.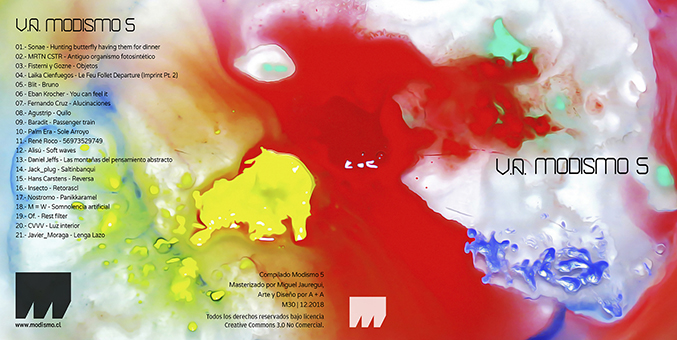 Review
V.A. - Modismo 5
New perspective of things can be found by raising ourselves. From a terrace, a peak or imaginary places we seek contemplation as it is our creative nutrient. Unsettling times must be confronted on the sidewalk of music production. As citizens of the world we are being witnesses of agitation related to climate change, to a rearrangement of political forces and to socioeconomic inequity among a variety of intertwined elements that cause reflection. It is a complex scenario that leads forces of similar pulsation and that seems to motivate the efforts behind the sharp response in this fifth compilation of Modismo. This compilation joins multinational talents in a wide range of styles, and as a proof of clean intentions it releases music of such depth and quality available for free. A gesture of caring kindness unites these 21 musical statements in which humanity and the plotted electro-mutant sounds dance as a reflection of upcoming storms. The overflowed pessimism, the industrial protest, the revolutionary dance and the questiong of forms have a natural room in one of the most ambitious works created by this label. For its constant commitment with risk and quality this new compilation of Modismo can be considerated as a compulsory stop at the moment of photograph the state of arts in the contemporary electronic music.
Javier Moraga Salazar,
Chile, 2018.
Reseña
V.A. Modismo 5
Al elevarnos logramos nuevas perspectivas para ver las cosas. Desde una terraza, cumbre o desde lugares imaginarios buscamos la contemplación porque nos sirve de nutriente creativo. Nos corresponde afrontar tiempos convulsionados desde la vereda de la producción musical y como ciudadanos del mundo somos testigos de agitaciones vinculadas al cambio climático, a reordenamientos de las fuerzas políticas, a inequidades socioeconómicas, entre múltiples factores entrelazados que atraen miradas y reflexiones. Un escenario complejo empuja fuerzas de igual ondulación, que parecen impulsar los esfuerzos detrás de la respuesta tajante que el sello Modismo ofrece en su quinto compilado. Aunando talentos multinacionales en un amplio abanico estilístico es una muestra de limpias intenciones el regalar de modo liberado música de tal profundidad y calidad. Un gesto de solidaria bondad une estos 21 enunciados musicales, en donde la humanidad y la maquinada sonoridad electro-mutante danzan como reflejo de tormentas porvenir. El pesimismo desbordado, la protesta industrial, el baile revolucionario y los cuestionamientos de las formas tienen cabida armónica en uno de los esfuerzos más ambiciosos de este sello. Por su constante compromiso con el riesgo y la calidad podemos mirar esta recopilación de Modismo como parada obligada al momento de fotografiar el estado de las artes en la electrónica actual.
Javier Moraga Salazar,
Chile, 2018.
Tracklist:

01-Sonae - Hunting Butterfly Having Them For Dinner
02-Fisterni y Gozne - Objetos
03-MRTN CSTR - Antiguo organismo fotosintetico
04-Laika Cienfuegos - Le Feu Follet (Imprint Pt.2)
05-Blit - Bruno
06-Eban - Krocher - You Can Feel It
07-Fernando Cruz - Alucinaciones
08-Agustrip - Quilo
09-Baradit - Passenger Train
10-Palm Era - Sole Arroyo
11-Rene Roco - 56973529749
12-Alisu Soft - Waves
13-Daniel Jeffs - Las Montanas del Pensamiento Abstracto
14-Jack_Plug - Saltimbanqui
15-Hans Carstens - Reversa
16-Insecto - Retorascl
17-Nostromo - Panikkaramel
18-M=W - Somnolencia Artificial
19-Of. - Rest Filter
20-CVVV -Luz Interior
21-Javier Moraga - Lenga Lazo
M030
[www.modismo.cl]
Compilado por Alisú y Jack_plug
Masterizado por Miguel Jauregui
www.epasonidos.cl/basstk.htm
Arte por A + A
Reseña por Javier Moraga
soundcloud.com/javiermoraga
Traducción por Allyson Penelas
www.alburaprod.com 
02.12.2018